WHO WE ARE
With over 30 years of industry experience, Ultra Labeling is built on competitive pricing and unbeatable service. We offer labeling solutions for nearly every industry and stand by our products 100% of the time!

WHAT WE DO
Need a stock or custom label, thermal ribbon, barcode printer, label applicator or labeling software? We've got you covered. If your label needs printed, applied, barcoded or scanned we can help!

REQUEST A FREE QUOTE
Call us Toll free at 888-677-6812 or email info7@ultralabeling.com. In the world of labels, you can't beat Ultra Labeling.
Welcome to Ultra Labeling...
We provide label solutions nationwide to various industries and markets. With labeling plant resources in Houston, Dallas, Atlanta, Chicago, Reno and LA . . . we've got you covered. From labels to label printers to label applicators, we'll work closely with your company to streamline your entire labeling process. Whether it's an industrial, manufacturing, warehouse, supply chain or retail application we can help. Your labels reflect your company image, and at ULTRA Labeling our product quality says we care greatly about your image. Our labels are prized for their quality and value and are available in the broadest range of specifications. And our reliable on-time delivery makes sure they are ready to go to work the minute you need them. Service, in fact, is what makes ULTRA Labeling stand out in the crowd. No matter what type of labeling challenge you encounter, we will be there to offer solutions before and after the sale. We stand behind our products 100% of the time - 100% guaranteed!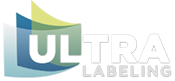 2503 Deer Mountain Ct, Kingwood, TX 77345
Phone 888-677-6812, Fax 281-360-8524
Email info7@ultralabeling.com

Copyright © 2002-2020, Ultra Labeling Systems, LLC. All rights reserved.